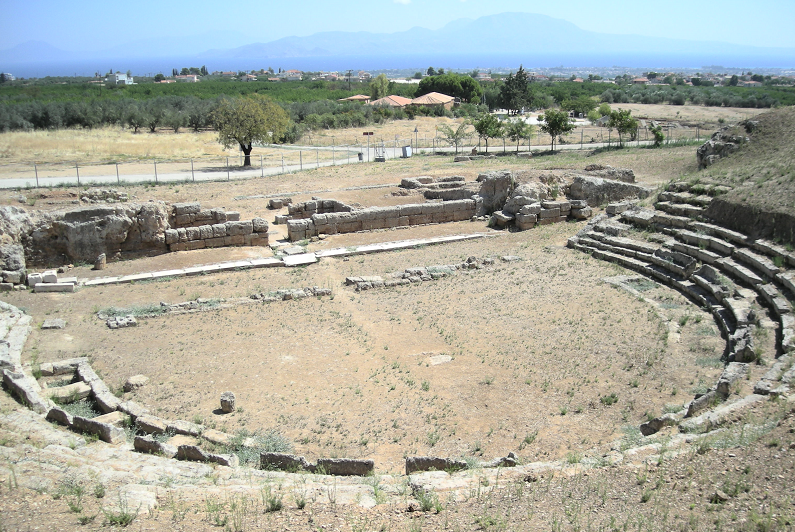 Before there was a written language, all of what we now regard as "literature" was shared and transmitted orally, and this may indicate the origin of the drama as a literary form. We can imagine pre-lingual "cavemen" sharing observations and experiences through a form of pantomime that their audiences could understand, appreciate and, more importantly, duplicate for later groups. The greater one's skill in "performing" a story, the more likely it would be that the story itself would be preserved for use or enjoyment by subsequent generations.
As human civilizations developed and grew, some form of oral and dramatic tradition must necessarily have emerged to perpetuate each culture's unique circumstances and interests. Rulers and group leaders of pre-literate societies would have needed a means of delivering their messages to larger and larger audiences with some measure of certainty that the same information was being received by all, and making use of dramatic performances would have been a sensible way to accomplish this.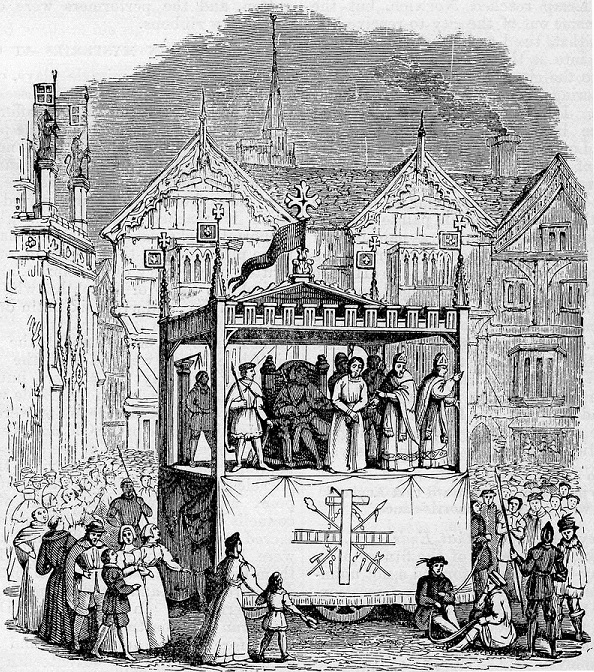 Certainly, by the Middle Ages the early Catholic Church recognized the efficacy of popular stage performances in spreading information about the application of religious worship to the daily lives of believers and assuring the consistency or universality of that worship. By sponsoring "miracle" or "morality" plays, the Church could maintain its control over the practice of religion in lands geographically far removed from its own location. At the same time, secular powers were starting to access the drama for more propagandist, state purposes.
The drama was dominated by religious themes early in Christian and recorded history, but it was too effective a medium to be left the exclusive tool of the Church. For almost as long as there have been plays and other performance pieces, in fact, there have been playwrights seeking to entertain audiences with lighter themes and topics. For instance, in more ancient times, but after the development of written languages, drama was a widely popular form of mostly passive entertainment. Early Greek classics portrayed both mythical and historic military events to preserve the history or promote cultural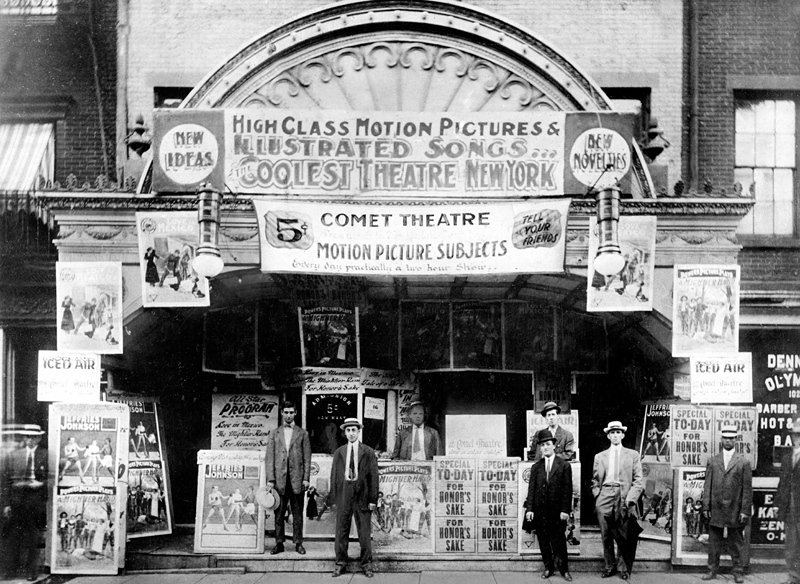 unity, but also presented stories with more of a social or emotional context. Examinations of universal human experiences and relationships grew in popularity and helped refine the drama to encompass two specific genres – comedy and tragedy – that continue to characterize almost all forms of drama to this day.
The Renaissance period in European history ushered in a "golden age" of drama and included some of the greatest plays and playwrights known to us today. The art of stage performance itself was developed to new heights of sophistication and complexity, storytelling and poetry were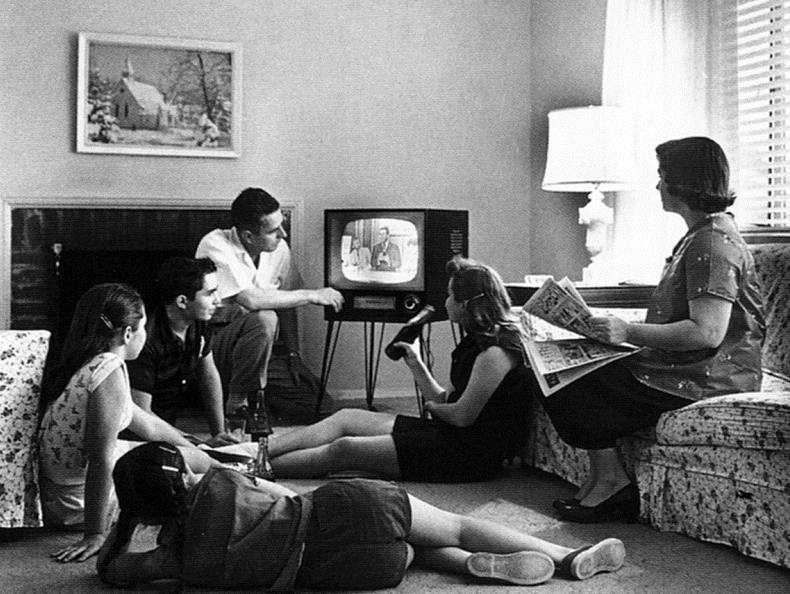 combined in powerful new ways to enthrall audiences and, in some instances, encouraged audience participation in the actions taking place on stage. As the Church lost its previously exclusive and iron grip on society in general, dramatic artists were free to present entertainments covering every conceivable aspect of the human experience. In later years, this unlimited freedom of dramatic expression would result in state suppression of the drama as a "corrupting" moral force in society, but the popularity of plays was too deeply entrenched for any set of laws to remain in effect for long.
Early in the 20th century, the creation of motion pictures took the traditional drama farther than had ever been imagined before. Conventional stage plays remained popular mass entertainments but actual performances were often limited to urban areas. Populations living in more rural areas contented themselves with reading plays as published in books and journals until arcades and then cinemas started to appear in nearly every distant town and province. Popular access to drama was further expanded with the invention of the television in the mid-20th century and the proliferation of new entertainment and informational programming designed for the small screen.
The following authors in our database represent the Drama: Stage and Screen category of our collection:
Aeschylus

(525 BC-455 BC)

Kyd, Thomas

(1558-1594)

Akins, Zoe

(1886-1958)

Lang, Fritz

(1890-1976)

Albee, Edward

(1928-2016)

Lawrence, Jerome and Robert Lee

(1915-2004)

Allen, Woody

(1935-)

Lorca, Federico

(1898-1936)

Altman, Robert

(1925-2006)

Lubitsch, Ernst

(1892-1947)

Andersen, Hans Christian

(1805-1875)

Luhrmann, Baz

(1962-)

Anderson, Maxwell

(1888-1959)

Lumet, Sidney

(1924-2011)

Anonymous: Everyman-Morality Play

(1509-1530)

Lyly, John

(1554-1606)

Anonymous: Mankind-Medieval Morality Plays

(1400)

Lyne, Adrian

(1941-)

Anonymous: York Mystery Plays

(1400)

Mamet, David

(1947-)

Aristophanes

(446 BC-386 BC)

Marivaux, Pierre de

(1688-1763)

Auburn, David

(1970-)

Marlowe, Christopher

(1564-1593)

Axelrod, George

(1922-2003)

Marshall, Garry

(1934-2016)

Baillie, Joanna

(1762-1851)

Marston, John

(1576-1634)

Barry, Philip

(1896-1949)

Massinger, Philip

(1583-1640)

Beaumont, Francis

(1584-1616)

Maugham, W. Somerset

(1874-1965)

Beckett, Samuel

(1906-1989)

McNally, Terrence

(1939-2020)

Behn, Aphra

(1640-1689)

Mendes, Sam

(1965-)

Benigni, Roberto

(1952-)

Middleton, Thomas

(1580-1627)

Bennett, Alan

(1934-)

Miller, Arthur

(1915-2005)

Bolt, Robert

(1924-1995)

Minghella, Anthony

(1954-2008)

Boorman, John

(1933-)

Moliere, Jean-Baptiste

(1622-1673)

Boucicault, Dion

(1820-1890)

More, Hannah

(1745-1833)

Branagh, Kenneth

(1960-)

Mowatt, Anna Cora

(1819-1870)

Brecht, Bertolt

(1898-1956)

Munday, Anthony

(1560-1633)

Bulgakov, Mikhail

(1891-1940)

Murnau, F.W.

(1888-1931)

Chaplin, Charles

(1889-1977)

Nicholson, Norman

(1914-1987)

Chapman, George

(1559-1634)

Noah, Mordecai

(1785-1851)

Chayefsky, Sidney 'Paddy'

(1923-1981)

O'Casey, Sean

(1880-1964)

Chekhov, Anton

(1860-1904)

O'Neill, Eugene

(1888-1953)

Childress, Alice

(1916-1994)

Odets, Clifford

(1906-1963)

Chin, Frank

(1940-)

Osborne, John

(1928-1994)

Christie, Agatha

(1890-1976)

Otway, Thomas

(1652-1685)

Churchill, Caryl

(1938-)

Pakula, Alan J.

(1928-1998)

Congreve, William

(1670-1729)

Pinter, Harold

(1930-2008)

Coppola, Francis Ford

(1939-)

Pirandello, Luigi

(1867-1936)

Crimp, Martin

(1956-)

Plautus, Titus Maccius

(254 BC-184 BC)

Cuaron, Alfonso

(1961-)

Polanski, Roman

(1933-)

Curtiz, Michael

(1886-1962)

Priestley, J.B.

(1894-1984)

Dangarembga, Tsitsi

(1959-)

Rice, Elmer

(1892-1967)

Davis, Jack

(1917-2000)

Richardson, Willis

(1889-1977)

Dekker, Thomas

(1572-1632)

Rose, Reginald

(1920-2002)

Dryden, John

(1631-1700)

Rostand, Edmond

(1869-1918)

Du Maurier, Daphne

(1907-1989)

Rowley, William

(1585-1642)

Duerrenmatt, Friedrich

(1921-1990)

Saroyan, William

(1908-1981)

Dunlap, William

(1766-1839)

Sayers, Dorothy L.

(1893-1957)

Edson, Margaret

(1961-)

Sayles, John

(1950-)

Etherege, Sir George

(1635-1691)

Scorsese, Martin

(1942-)

Euripides

(d. 406 BC)

Scott, Ridley

(1937-)

Fincher, David

(1962-)

Shakespeare, William

(1564-1616)

Fletcher, John

(1579-1625)

Shange, Ntozake

(1948-2018)

Fo, Dario

(1926-)

Shaw, George Bernard

(1856-1950)

Ford, John

(1586-1640)

Shepard, Sam

(1943-2017)

Forman, Milos

(1932-2018)

Sheridan, Richard Brinsley

(1751-1816)

Friel, Brian

(1929-2015)

Shirley, James

(1596-1666)

Fugard, Athol

(1932-)

Simon, Neil

(1927-2018)

Fuller, Charles

(1939-2022)

Smith, Anna Deavere

(1950-)

Gay, John

(1685-1732)

Sophocles

(496 BC-406 BC)

Gibson, William

(1914-2008)

Southern, Terry

(1924-1995)

Gilbert and Sullivan

(1836-1911)

Spielberg, Steven

(1946-)

Glaspell, Susan

(1876-1948)

Stoppard, Tom

(1937-)

Gondry, Michel

(1963-)

Strindberg, August

(1849-1912)

Green, Paul Eliot

(1894-1981)

Sturges, Preston

(1898-1959)

Greenaway, Peter

(1942-)

Suskind, Patrick

(1949-)

Gurney, A.R.

(1930-2017)

Syal, Meera

(1961-)

Hagedorn, Jessica

(1949-)

Synge, John Millington

(1871-1909)

Hansberry, Lorraine

(1930-1965)

Tarkington, Booth

(1869-1946)

Heckerling, Amy

(1954-)

Tyler, Royall

(1757-1826)

Hellman, Lillian

(1905-1984)

Valdez, Luis

(1940-)

Heywood, John

(1497-1580)

Vanbrugh, John

(1664-1726)

Heywood, Thomas

(1573-1641)

Wasserstein, Wendy

(1950-2006)

Highway, Tomson

(1951-)

Webster, John

(1580-1625)

Howard, Sidney Coe

(1891-1939)

Wedekind, Frank

(1864-1918)

Hwang, David Henry

(1957-)

Weir, Peter

(1944-)

Ibsen, Henrik

(1828-1906)

Welles, Orson

(1915-1985)

Inchbald, Elizabeth

(1753-1821)

Whale, James

(1889-1957)

Inge, William

(1913-1973)

Wiene, Robert

(1873-1938)

Ionesco, Eugene

(1909-1994)

Wilde, Oscar

(1854-1900)

Jones, Tommy Lee

(1946-)

Wilder, Thornton

(1897-1975)

Jordan, Neil

(1950-)

Williams, Tennessee

(1911-1983)

Kaufman, George

(1889-1961)

Wilson, August

(1945-2005)

Kubrick, Stanley

(1928-1999)

Wycherly, William

(1640-1716)

Kureishi, Hanif

(1954-)

Yew, Chay

(1965-)

Kurosawa, Akira

(1910-1998)

Zeffirelli, Franco

(1923-2019)

Kushner, Tony

(1956-)
Click on any of the above names to open the corresponding biographical essay.
Click on the red book icon

to the left of any name in the list to access that author's bibliography and our collection of direct links available for the associated titles as hosted by a wide variety of professional and academic Web sites.
---
Are there other authors you think should be included in this category?
Let us know and we'll try to add them whenever possible.
---
Register now for a Free Membership to CurricuLit.com and you will receive notices of special features and updates as they become available.