c. 1836-c. 1860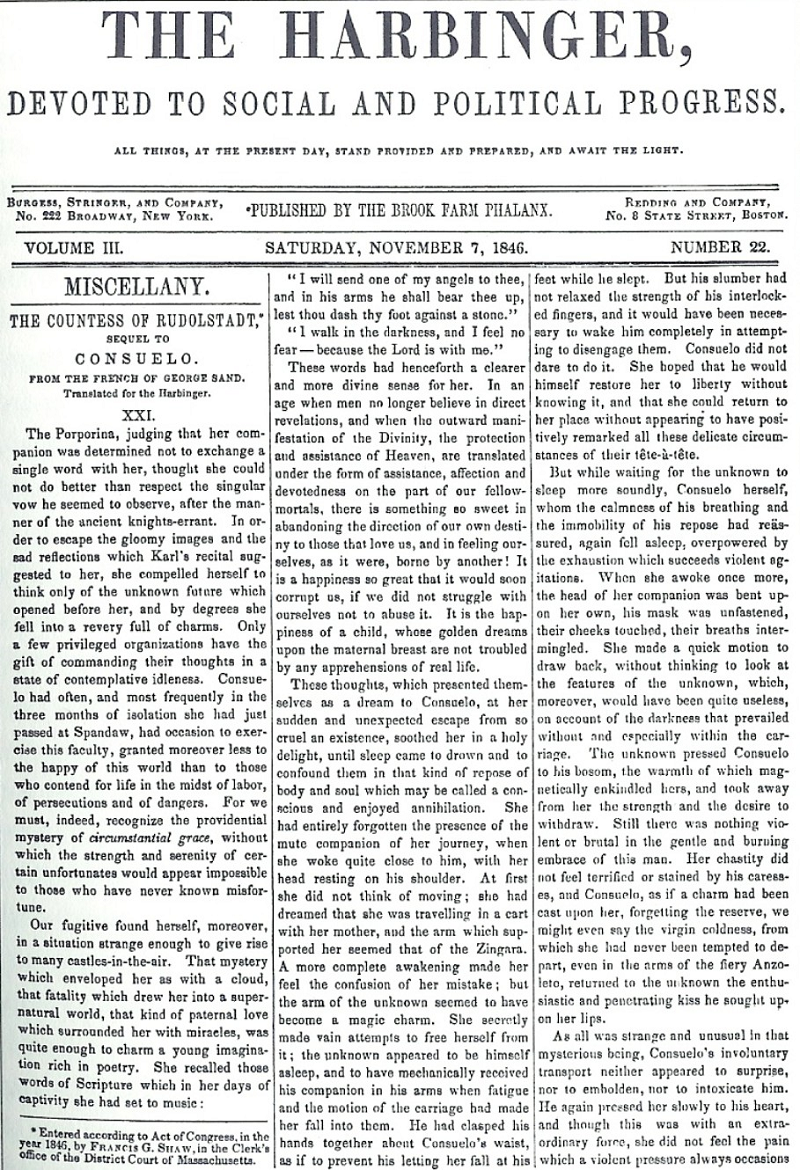 "Transcendentalism" was both a literary and a philosophical movement that came into existence within the Romantic Era of American literature.
Dominated by individuals with a background in theology (many were ministers or former ministers of Protestant congregations in New England), Transcendentalists stood in opposition to some of the main themes of the Age of Reason and, in a sense, sought a return to a more spiritual communion between man, nature and God. They believed that one's natural intuition and personal conscience were better indicators of "truth" than the ethics of science, logic or reason as proposed by the Enlightenment thinkers of previous generations.
Efforts to establish separate Transcendentalist communities as a sort of utopian experience were generally unsuccessful, owing in some measure to a lack of unity or clarity about the direction of such communities when each of the members expected the freedom to exercise the full scope of personal autonomy over their own lives.
Transcendentalists were instrumental in the anti-slavery movement leading up to the Civil War, however, with many taking an active role as speakers and organizers of abolitionist rallies. They included a number of accomplished poets and essayists whose themes were focused on the presence of God (or divinity) in all people and all things.
Prior to the dissolution of the movement, writers turned their attention to exhorting individuals toward a greater self-awareness, self-trust and self-sufficiency. With its emphasis on individualism and perception as reality, Transcendentalism contributed to the formation of the American character as distinct from all European, collectivist identities and may have laid the groundwork for subsequent literary movements in which introspection emerged as a common theme.
Transcendentalist Literature
The following authors in our database represent the Transcendentalist Period of American Literature:
Alcott, Amos Bronson

(1799-1888)

Greeley, Horace

(1811-1872)

Anthony, Susan B.

(1820-1906)

Grimke, Sarah and Angelina

(1792-1879)

Brownson, Orestes Augustus

(1803-1876)

Hedge, Frederick Henry

(1805-1890)

Channing, William Ellery

(1780-1842)

Howe, Julia Ward

(1819-1910)

Channing, William Henry

(1810-1884)

Marsh, James

(1794-1842)

Chesnut, Mary Boykin

(1823-1886)

Parker, Theodore

(1810-1860)

Child, Lydia Maria Frances

(1802-1880)

Peabody, Elizabeth Palmer

(1804-1894)

Clarke, James Freeman

(1810-1888)

Phillips, Wendell

(1811-1884)

Cranch, Christopher Pearse

(1813-1892)

Ripley, George

(1802-1880)

Dall, Caroline

(1822-1912)

Stanton, Elizabeth Cady

(1815-1902)

Dickinson, Emily

(1830-1886)

Thoreau, Henry David

(1817-1862)

Dwight, John Sullivan

(1813-1893)

Truth, Sojourner

(1797-1883)

Emerson, Ralph Waldo

(1803-1882)

Very, Jones

(1813-1880)

Fuller, Margaret

(1810-1850)

Whitman, Walt

(1819-1892)

Garrison, William Lloyd

(1805-1879)

Whittier, John Greenleaf

(1807-1892)
Click on any of the above names to open the corresponding biographical essay.
Click on the red book icon

to the left of any name in the list to access that author's bibliography and our collection of direct links available for the associated titles as hosted by a wide variety of professional and academic Web sites.
---
Are there other authors you think should be included in this category?
Let us know and we'll try to add them whenever possible.
---
Register now for a Free Membership to CurricuLit.com and you will receive notices of special features and updates as they become available.